Overview: Teacher Grant – President's Project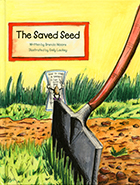 Wayne Woods Garedn Club will award an annual grant to an elementary teacher in Upper Merion Area School District, and collaborate to supplement the curriculum with a special project by utilizing the NGC book The Saved Seed. Possibilities include applied science through plant life cycles, applied math skills through measurements, and applied writing skills through journaling.
Update: October
The President's Project is in full swing with Roberts Elementary School second grade. A member purchased and delivered 18 pumpkins of various varieties. Two members read the book, The Saved Seed, to the students. After Halloween, they will open their pumpkins and prepare the seeds to save until they can plant them in the pumpkin patch in the Spring.
Update: May
The second grade students at Roberts Elementary School have planted their pumpkin seeds in peat pots and are waiting for them to germinate. Once the plants are a few inches tall, they will plant them in the pumpkin patch that is being prepared by the Upper Merion School District grounds crew. The students will be assisted by 3 Wayne Woods Garden Club members.
Update: June
The Saved Seed pumpkin project entered the planting phase in May. After utilizing the six varieties of pumpkins and the seeds for lessons in math, writing and science, the second grade students at Roberts Elementary sowed their 'Saved Seeds' in peat pots and later planted their seedlings, along with the help of the Upper Merion Area School District grounds crew, in 20 five-gallon buckets. This project was a collaborative effort involving WWGC, administrators, second grade teachers, facilities manager, grounds crew and students. In the Fall, the pumpkins will be harvested, completing the cycle. The new cycle will then begin again with the new second graders.